Interested? Hop on board!
Be a part of a movement that powers social change where it really matters.
Be a Dragonfly! Connect with us!
Our Journey
The Dragonflies Everywhere journey started serendipitously; Over a casual lunch when the founder of a new project in East Africa shared his dream of creating hope for the youth in his slums through video storytelling. The conversation resulted in an unexpected high value resource donation that helped the project get started and lo presto, an idea was born.
We saw an opportunity; To build a bridge between two disparate worlds – one with individuals and communities who enjoy privilege in various forms and the other, the underserved communities at the grassroots that are vastly impacted by the social, political, economic and ecological problems of the world.
We saw an opportunity to build a culture of collaboration to power impactful social change and value creation by bringing these two worlds together, by creating a movement that transcends manmade barriers and allow people from different communities and societies to come together, as equals, to build a better world.
The world we envision
A compassionate, more egalitarian world of shared humanity, collaboration and value creation;
A world where change is driven through the creation of meaning and social value by a network of individual and dragonfly swarms from silos of privilege who will actively collaborate with social change projects at the grassroots.
Our Values
Leadership: We commit to leading by action in actualizing our vision.
Collaboration : We believe in the magic of transformation that happens when likeminded people from diverse backgrounds decide to work together as equals to achieve common goals.
Excellence: What we do, we will do it right and we will do it well.
Integrity: We will be real. We will be honest. We will be responsible. We will be transparent. We will act with fairness, in good faith, with awareness of the consequences of our actions and decisions.
Optimism: The Dragonflies are an optimistic lot, choosing to enthusiastically plan and work with positive expectations and a solutions oriented mindset despite the challenges that may come our way.
Pearl Natasha Panthaki
A global learning leader and coach, Pearl leverages her passion for empowering people to shape and lead learning initiatives for Dragonflies Everywhere. She is a certified Neuro Linguistic Programming (NLP) trainer who has helped over 500 people progress in their careers and personal lives.
Pearl is a practicing Buddhist who deeply believes in serving. Her vision is to create a professional community for learning and knowledge sharing that supports projects at the grassroots in creating value and impact.
Daisy Chittilapilly
A professional manager in the Technology space, Daisy brings the ability to operationalise ideas at scale to Dragonflies Everywhere. Forging sustainable partnerships with corporate/ individual donors and beneficiary projects, on behalf of Dragonflies Everywhere, is of particular interest to her.
Daisy is a firm believer in an individual's responsibility to be socially conscious, and in the pay it forward ethos. An avid traveller, Daisy sees travel as an amazing teacher that expands her perspective, while allowing her to reflect on and appreciate life.
Chinanshu Sharma
Banker turned entrepreneur designer, Chinanshu is an artist with a strong ethos of collaboration and giving back. She is the founder of the natural, organic and sustainable jewelry brand – Paarisha – which, in India, was a business that provided employment to women from low income groups. Chinanshu currently resides in the US where she is engaged in translating her marvellous creative adventures into new lines of sustainable jewelry.
Chinanshu shapes and directs the individual and group mentoring programs for Dragonflies Everywhere, which focuses on the mentoring and upskilling of project founders and teams for specific project growth and development goals.
Suparna Umashankar
A lawyer by profession, Suparna has been a part of the Dragonflies Everywhere journey from concept to operationalization, and supports our growth with her legal/compliance expertise and strategic business insights. She is the co-founder of Legal Torque, a corporate law firm based in Bangalore, India.
An artist, nature lover and spiritualist, Suparna believes in the empowerment of humanity through education and knowledge sharing, often volunteering her energies and wisdom with great generosity of spirit.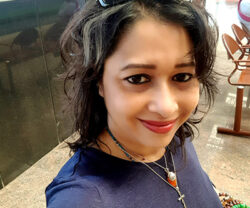 Rekha Saleela Nair
The founder of Dragonflies Everywhere, Rekha believes in a world that runs on compassion and shared humanity where people transcend boundaries and differences to work together to build more egalitarian, harmonious and prosperous communities.
Rekha is a personal branding and representation coach, a crafter of humanized brand stories for businesses and individuals and a consummate wordsmith. She espouses natural and mindful living, minimalism in consumption, and present moment awareness as a way of daily life.
Make a donation
We need your financial support. Your donation – large or small – will help us continue being an effective bridge, helping more and more social change projects at the grassroots across the world access qualitative knowledge, learning, resources and support to meet their impact goals.
We thank you in advance for your generosity and support.
Your contribution has helped make a change in the world.